A section dedicated to all things music.
Monday 14th August 2017
Pro Era: 5 Years After Capital STEEZ's AmeriKKKan Korruption
Pro Era, Era, Pro Era, Era, Era
Back in April this year, my friend Sebastian published a dope video he made titled Pro Era: 5 Years After Capital STEEZ's AmeriKKKan Korruption. The video sees a compilation of classic flows and sounds from the beloved hip-hop collective Pro Era. Sebastian focuses on the deceased rapper Capital STEEZ who dropped AmeriKKKan Korruption exactly 5 years ago on 7th April 2012. Whether you're a fan of Pro Era or simply just a fan of music, it's a must see!
Here's what Sebastian had to say about it:
"I wanted to create something for YouTube that I would have liked to watch. Pro Era really changed my outlook on music and continues to be a large influence in my life. I wanted to show their growth since AmeriKKKan Korruption. This kind of serves as an archive. I figured I could share my views and passions with others on a platform that respects creativity. Whether you haven't heard of them before or have been fans since day one, my perspective of Pro Era might be able to change yours. A second one is in the works, which will be covering a lot more! I want to create a 15 minute one this time, covering every artist, all releases and collabs."
STAY CONNECTED WITH THE OUTFIELD FOR MORE TO COME.
---
Monday 31st July 2017
Back in Time Series
An Omarion appreciation article
So today's been a pretty sunny day, which is very unusual weather for us Brits. I was on the train earlier and I started listening to throwback tunes, as you do. I stumbled on one of my favourite throwback jams from Omarion. Entourage. You know, the one that starts with La da di di di di di di di di di, when that dude the funky hairstyle introduces Omarion to the audience. Or if you didn't get that, it's the one that had you singing Baby I want you to be my entourage at the top of your lungs back in the day. Well, if that wasn't you. It was definitely me…and a couple of my mates.
We are all so smitten with him back in the day. What I loved (and continue to love) about this song is the groooovy instrumental and the way in which Omarion dominates the dance floor. Omarion was definitely one of the most talented entertainers of the early 2000s. Not only did he manage to steal the hearts of many young girls but the RnB superstar also managed to captivate the audience with his Pop & Lock dances and soulful riffs and runs. The single was released in 2006 as part of Omarion's second album 21 and came in at number 78 (on 21st September 2006) on the Billboard 100. For some reason it didn't gain as much popularity as Ice Box which charted at number 12 on the Billboard 100 (on 10th March 2007). Honestly, I preferred Entourage to Ice Box it's actually my go-to-Omarion-track. I think people gravitate more to Ice Box due to it's relatable lyrics, it will have you singing "I got this icebox where my heart used to be" in memory of that person you used to like.
It's actually one of the songs you can listen to whilst stuffing your face with Ben & Jerry's Ice Cream. I think that's why people like it. For me, it was JoJo Too Little Too Late that did it, yeah that hit me in the heart. Lol. I think everyone had an 'everything JoJo' phase. Anyway, back to Omarion. Another song I really enjoyed back in the day was Girlfriend, like if you couldn't sing at least the chrous word for word (without checking the lyrics) were you really a fan?
Let's talk about the Bow Wow and Omarion 'bromance' shall we, not gonna lie but I used to love when they collaborated together. It was bound to be a hit and most times it always was. Hmm, what's another classic? Oh right, Let Me Hold You yeah this was a great Bow Wow and Omarion collab and a very popular R&B slow jam.
Now how can we truly appreciate Omarion if we forget to talk about his B2K days. For those who don't know Omarion was part of an American RnB group called B2K. This group comprised of three other members (lead rapper Lil' Fizz, Raz-B and J-Boog). Many of us late 90s-early 2000s RnB lovers would definitely know this classic…
Bump, Bump, Bump was that dance track the ladies got to throw it up to. It was actually a tune! It still is. I really do believe songs from that era are timeless, you can play it any day and it would still bang. B2K and Pretty Ricky were my favourite 'boy bands'.
This trip down memory has got me feeling very nostalgic. Pretty Ricky was that group that had that slick look, those sultry vibes and the continuous RnB hits. Literally every song can have you deep in feels. Whilst on the topic of slow jams that will have you in your feelings, I think it is the right time to bring back this old classic…
This was another track by Omarion I used to bump religiously back in the day. The song really captures the early 2000s era where music videos consisted of dramatic stares outside window of the car.
The American singer-songwriter went onto work with Rick Ross on his collaborative studio album Self Made Vol. 2 for one of the singles Let's Talk.
The track was dope and the album was equally as dope. Personally, this was the best track on the album. It has a nice vibe about it. The Biggie cameo's on the track certainly makes it more special. Omarion has since become a father. He continues to pursue his career in music alongside acting. He recently released a song called Distance which you may have heard…everywhere. Lol. It has that club-like feel but also plays on this Calypso/Afrobeat-style that continues to dominate today's music.
Despite an ever-changing music scene, Omarion manages to stay relevant. His skills on the dance floor are undeniable and his portfolio of music definitely cements him as one of the most talented and popular RnB superstars of the late 90s-early 2000s era.
---
Sunday 23rd July 2017
That New Sh*t
Namebe Soul: FELA (prod. by Soulace Music)
A casual Sunday read
Hey guys, so I've started a new column called That New Sh*t where I'll be reviewing new songs and albums that come out. I decided to go with That New Sh*t because it's literally that new sh*t. It's like when your friends ask you if you've heard that new song or album that's come out and their like "…has dropped that new sh*t". That's the kinda vibe I'm going for with this. Something natural, something dope, something that flows and where better to start than by reviewing FELA – a new song released by my good friend Namebe Soul.
FELA is the newest track from his forthcoming EP Souvenirs, which is set to drop on 6th August. The track produced by Soulace Music was largely influenced by the extraordinary and multi-faceted musician Fela Kuti. Namebe actually told me that the inspiration behind the song came, when him and his friends were looking through Fela samples. He 'spat the rhyme on the beat' like a true lyricist and got called 'Fela Chuku' by one of his guys, which I thought was pretty jokes. He took off his last name and ran with it. That's how the name FELA came about.
Before I give it the 'In the writers mind' seal of approval (oh I kinda like that actually), I'd like to start by talking a bit about the artwork for the EP. All credit to Chris Donlon of course for his artistic flair! To me, the artwork is reminiscent of what I believe to be really authentic and interesting about hip hop. That is the ability to tell a story through rhyme. Namebe has cleverly used the cover to display the story of his past and his present. He reveals himself to the viewer through the artwork, helping us to get a sense of what the EP will sound like. It actually took me back to Kendrick's cover for Section.80 which was also a reveal into the person behind the music.
The Bible highlights Namebe's faith, the football marks his hobbies and the music represents his deepest passion. Together, the 'souvenirs' in the box shape the person that he is today. FELA definitely corresponds with themes in the artwork. "Cause I had to fight for this I stay alive for this," Namebe raps inspiring strength through his lyrics. This can also be taken as a reference to his passion to pursue a career in music. He begins the track with the fierce repetition of "Hear them chanting, say their coming, pointing fists but we ain't running". His flow is melodic and his use of wordplay such as "sabre thoughts, sword words" cuts deep and makes us think – the mark of a true lyricist. He talks of how "having no desire" or "no reach to get higher" can hold us back from our true calling. He makes us look inside ourselves, reflect on where we are at the moment and where we should be.
"Move through the shadows of evil, with a mic in my right hand and a wound on my left". Yoooo! Let me tell you…I loved this lyric. It immediately brought the image of the Bible in his box of souvenirs to my attention. What I also took from that line is that Namebe is trying to preach a message through his music, but it won't be easy (hence the wound). He goes on to talk about how he hopes that his music will leave a mark/live on as part of his legacy. He sees a flawed generation and talks of a world where hip hop "will change the kids". He speaks of a better future through music and his hope is inspiring to us all. Then to top it off he ends the song with the powerful statement "My God is great" and we are left anticipating his next moves. Given that Namebe is an independent artist with lyrics such as this he is one you need to watch.
If you want to find out more about the artist…head over to the Interviews page to read my full interview with him!
---
Wednesday 5th July 2017
Image taken from http://h-wing.net
This ones for the Drillers
Is it time to give Drill music a chance?
What is Drill music? Where did it originate? What's hot right now?
Let's start with where it all began. Drill music actually originated in America, in the South Side of Chicago and is expressed in the sounds of prominent trap artists such as Chief Keef, Lil Durk, Fredo Santana and G Herbo. Like other genres it has successfully managed to make it's crossover to the UK with the emergence of artists such as 67, Harlem Spartans, 410 and Zone 2 to name a few. Drill music has faced some criticism for it's violent imagery, heavy beats and other negative associations.
What I'm bumpin' right now?
1.
2.
Are you gonna back your goon? Are you gonna back your bredrin? You can't deny the lyrics are hella catchy.
3.
Cause you know that my team's certy. How you gonna do man dirty?
Check out the video below for more…
My opinion? Well, Drill music definitely takes some getting used to, I don't bump it everyday but I will say some songs are quite catchy and worth listening to.
Well…
What do you think? Is it time we give Drill music a chance?
---
Monday 3rd July 2017
Why the Anderson .Paak concert was my favourite concert yet
Can we have a round of applause for Malibu. Yes, one more time…alright that's enough. In my opinion that album was one of the best albums to come out of 2016 and I say that with confidence. It was an infusion of melodies, a hybrid of genres, so to speak. An album for the soulful R & Ber's, the Hip-Hoper's, the Jazzy ones, the lovers of commercial music, the ones who dig Rock and so forth. Paak came like a modern-day James Brown in songs like Come Down and Carry Me.
One of the main reasons why I love .Paak is due to his energy and positivity. He is constantly blessing us with that well needed 'feel good music' that has you itching to get up and dance. Not only is he a very talented musician but he is a born entertainer and you can see that anytime he grabs the mic. I do feel that the James Brown comparison is definitely an appropriate one. Brown, during his time exhibited a great degree of charisma and charm that I see expressed in .Paak's music. Brown gave us an array of timeless classics like I Got The Feelin', Get Up and I Feel Good.
In this video you can quite clearly see why the 'Brown-.Paak' comparison is an appropriate one. .Paak certainly helps to keep his legacy alive in a way that appeals to the youth of this generation. I stumbled across the artist whilst I was on YouTube watching sets from the Boiler Room. As you do. I watched a set with him and Knxwledge which I believe to be promo for their joint project NxWorries – Yes Lawd! which is actually out now so go check that out! What I have to say about that project simply won't do it justice. I will say that Link Up, Wngs and Suede are the tracks you should listen to first. Man, Link Up is such a crazy track I actually hadn't heard anything like it before… Bad b*tches ought to link up, I honestly can't get enough of it, even now. Knxwledge produced that. He actually makes the WILDEST beats and if you like him, go listen to another artist called Tuamie who is also very good.
(This song happens to be my favourite song of his, after These Waters of course – y'all know I love BJ the Chicago Kid). On Thursday 25th February 2016, I went to see .Paak live in concert at XOYO as part of his OFF THE GROUND TOUR and just like his songs the concert was crazy. Hands down the best concert I have ever been to. First, Nadia Rose opened up with Station and a couple more dope tracks before leaving the floor to .Paak and The Free Nationals. I told myself I wouldn't record anything on my phone, that I would actually soak it all in like they used to do back in the day, when Instagram or Snapchat wasn't 'poppin'. Haha. I couldn't help myself. I ended up recording practically the whole night before my phone decided it was time to give up. The energy was indescribable, the room was packed with people of all ages (mostly teens). I literally had to move to a different spot every five minutes or so just so I could see the stage or better still capture his gaze. I tried finding some of the clips I recorded during the night so I could show you but they were all on my Android. I have since then joined the Iphone family. It was time to leave the pixelated-quality-lifestyle behind and move onto bigger and better things – the Iphone. Nevertheless, I'll be seeing Erykah Badu in a couple of days and I'm extremely excited about this so you know I'll be capturing everything from the night to share with you. Regardless, the Anderson .Paak concert was truly a spectacular night.
"I have played Malibu so much but it still has that new album feel every time I listen to it. Thank you for 'feel good' music. I hope you go really far".
…Cringe. Lol. I managed to get a picture with the artist who actually turned out to be as genuine and humble as they come.
---
Thursday 22nd June 2017

Dear
Mobb Deep,
A tribute to a Hip-Hop legend
Let me start by thanking you for Shook Ones…
The icey track, with the hardcore beat and the coldest lyrics "I'm only 19, but my mind is old/But when the things get for real, my warm heart turns cold". Every time, I hear this track it makes me want to spit the coldest freestyle, for anyone whose willing to listen to me ramble. This is the go-to track for cyphers. This that track that makes you want to bench-press 100Kg dumbbells with ease. The ultimate rap song. Everybody's favourite.
Thank you for Outta Control…
"You, know, I, got, what it takes to make the club go outta control/Quit playin turn the music up a little bit/Bounce with me now shorty let's get into it". Man, this really is a timeless track. What I love most about this song, aside from the dope bars is the instrumental. It sounds as though a violin is being used, I can't say for sure but it certainly takes me back to the days I used to play the violin regularly. Thank you for that. Giving us music that has us reminiscing or thinking ahead. Music that has us nodding our head.
Thank you for Got It Twisted…
The dance-able track that really had us twisted. This song used to make me feel so cool. It gave me a sense of confidence. When I was younger and 'crip walking' was still a thing, I used to 'crip walk' to this track. Don't ask me why I did it. It was the track where everyone showed off their cool moves, so obviously I had to cut a rug.
Finally, thank you for some of the life lessons you taught us in Survival of the Fittest…
You teach us that life is about 'survival'. That the goal therefore, is to remain strong, to fight for ourselves, be it a black man/woman fighting for justice, a teen fighting to be heard by the government or a woman fighting to be recognised in a male dominated world. This message is somewhat empowering.
---
Thursday 22nd June 2017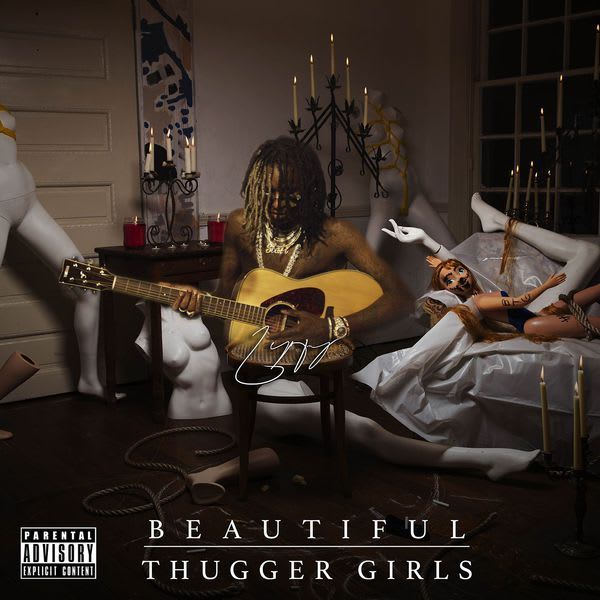 What I think about Young Thug's Beautiful Thugger Girls…
Thugger's anticipated album is finally here, so let's talk about it. It is the album that has managed to piss off CoverGirl due to it's association with their infamous slogan "Easy Breezy Beautiful". CoverGirl who recently released a statement, claimed that the 'album is not aligned' with their 'values' so Thugger is facing scrutiny for it. To be honest, I doubt he's that rattled. I'm sure people aren't thinking that this album is hinting that he's about to become the new face of CoverGirl or something haha. I doubt it's a subliminal message guys…we can all relax now. Anyway, no-one can deny that his work rate is crazy. It seems like every time I check YouTube or SoundCloud the artist has either released a new song or is featuring on a new track. Honestly, I can't quite get enough of Get High. So, let's start here first.
To be honest, I wanna sit here and type the 'instrumental is hard or the melody has a vibe about it' but that would be an injustice to all the other components that make the song (and the album) as dope as it is. Sometimes we get so fixated on a dope instrumental that we forget the track actually has words in it. Don't worry if this is you, because it has been me too on numerous occasions. So, yes the instrumental is hard as hell, but Thugger's playful and catchy bars with the addition of Uncle Snoop, are as instrumental as the instrumental, in making the song the hardest track on the album. Hol'd up did you notice that pun though. Personally I think this is the hardest track on the album, but I do think You said is a close second.
I'm not gonna lie his lyrics are quite explicit, but then again most rap songs are so we either gotta bleep it out or just get used to it. You said is a bit of an oxymoron, it starts with an instrumental that sounds almost like a harp or acoustic guitar is being used. The beat is soft and controlled to compliment the blissful sound, but then Young Thug comes in with…let's just say he doesn't keep it completely PG. It's a bit of a juxtaposition but I still like the track, it grows on you. To be honest, I feel like he wanted to showcase his versatility in this album. Me and Us has a bit of a country sound to it, I don't know if you can hear it – I guess we can call it country-hop. No, I think I'm reaching with that, but it definitely doesn't sound like a typical hip-hop track…takes some getting used to. Reminds me of Tunechi… that's Lil Wayne for those who aren't OG fans, but yeah it reminds me of Wayne's song Prom Queen. The instrumentals are completely different but both sound as though they're channelling aspects of another genre. Likewise, Do U Love Me seems to play on the admiration for Bashment (dancehall) and Afrobeats that I do believe Drake was responsible for to some extent. I'm not saying that he made the two genres famous as they were already popular in their own right. He simply put artists on to help these genres properly integrate into western culture.
---
Thursday 22nd June 2017 – Late night ramblin'
Hawk House
No words, just enjoy the music…
Anotha one… oops I said no words but I'm out here doing up DJ Khaled. Lol, My bad.
It's the D, yeah that's what's up… I keep it ghetto with the plastic cups..did it again. Sorry man, I actually can't help myself. Alright, no words. Imma stick to it…Lol.
Hope you enjoyed that. Hope I put you on!
---
Saturday 17th June 2017
Why DJ Khaled's Wild Thoughts is an anthem
The track featuring Rihanna and Bryson Tiller erupted on Youtube on Friday 16th June. The instrumental oozes hella Spanish vibes which is further exaggerated in the visuals and the music video. Can we talk about Rihanna's style too though. Issa summer look! I'm seeing Spanish flamenco dancer but I'm also seeing ghetto fashion princess. The whole fit is dope and fits the overall theme of the song. The song is a refreshing and modern take of Maria Maria, the 90s hit by Santana featuring The Product G&B.
It marks the fourth single of DJ Khaled's highly publicised album Grateful, which he claims his four-month-old son helped to executive-produce. Maria Maria's beautiful acoustic melody is used throughout the track, providing for a dance-able track that will definitely be played all summer. Rihanna's sultry voice beautifully accompanies the instrumental, bringing us back to her Pon de Replay days. R&B singer, songwriter and rapper Bryson Tiller comes in towards the end of the track with his cool demeanour and charm. Expect to hear this anthem all summer!
---
Friday 16th June 2017
Why SiR is the artist you need on all your playlists
So, I asked my brother (an avid fan of TDE) the other day who SiR is and he looked at me like I was speaking a foreign language. "Sir?" he repeated. I responded saying "yeah SiR, the Inglewood artist from TDE". He continued to look at me puzzled. I then said "you know what…just listen to this song". I played him the very first song I heard that literally made me fall in love with the artist. Queen.
Hopefully when you listen to this song you'll understand why I became smitten with his vocals. You know, we're always so quick to hail Kendrick when it comes to anything concerning TDE. Yet, very few people are even aware that the Inglewood native is signed to the label. His vocals alongside artists like Tiffany Gouche and BJ the Chicago Kid are part of what I would describe as a 'new r&b collective'.
I wanted to get more of a feel of his style, to see whether there were any other songs I'd like so delved deeper and deeper into YouTube. I came across Ooh Nah Nah featuring another one of my favourite artists Masego.
I loved SiR's smooth vocals here which reminded a lot of Queen. Equally Masego who I like to call the 'Trap House Jazz connoisseur' uplifts the song putting a nice spin on the ending. I kept looking. I wanted to see if I could find any up tempo songs that I would like, so I then ventured onto SoundCloud where I found LONG LIVE DILLA. A mixtape he published on SoundCloud three years ago. I surveyed the tracklist and spotted a few classic Dilla songs Hoes, Won't Do and Shake it Down. With me loving Dilla's music as much as I do, I knew I was gonna love this mixtape. I listened through from GOOD TIME to Happy and lets just say I was not disappointed. I particularly loved his rendition of Won't Do, as many Dilla fans know that is where revealed that he was suffering from lupus.
Oh I forgot to mention I did actually hear his vocals before I stumbled upon Queen in a song featuring Anderson Paak called Liberation. At the time, I didn't even realise it was him I just really liked the song. I was having my Anderson Paak craze then, haha, I wasn't here for anyone else. Anyway, this marks the end of this post, but his musical journey continues. I do advise following him on social media as you will certainly be hearing more from him!
---
Thursday 15th June 2017
Take a gander at my favourites from The Stuyvesants
A light read
It's literally 4:30am and I stumbled on a group that I first found out about when I was back in sixth form. The Stuyvesants. It's certainly been a while since I've listened to them, but they are as dope as they come. I can't get enough of them. I think that's healthy. Not listening to an artist or group you usually listen to for a while. When you come back to them you get that new feeling inside of you, you know, the one you get when you hear a song you like for the first time. So, while I'm here I thought I'd share some of their tracks.
First go listen to this mix.
One word. Crazy. Again, I love the jazzy feel but some of the beats are nuts. Here's some other tracks you might like.
I got that head nod sh*t that make you break your neck. Woo Hah! You can tell that's my favourite lyric. Lol. I feel like Busta Rhymes when I say it. This one is definitely my favourite. Always has been. If this instrumental doesn't make you nod ya head even a little bit, then I don't know what will. I'm sure we can all agree that Busta Rhymes absolutely kills it in this track. Here are some others:
Thank you for taking a gander at my favourites from The Stuyvesants. Hope you enjoyed the songs as much as I do. Follow them on social media to keep up with their musical journey!
---
Thursday 1st June 2017
It's a Slum Village affair
The 90s-hip-hop sensation originally comprised of Titus Glover (deceased) who went by the stage name Baatin, J Dilla (deceased) formally known as James Dewitt Yancey, Illa J also known as James Derek Yancey, Young RJ, T3 and Elzhi. Now members T3 and Young RJ act as a dynamic duo helping to maintain the rhymes and crazy instrumentals encapsulated in Dilla's beats and SV's sound, that will surely make ya head nod. A sound that dominated Detroit's underground music scene and even since Dilla's untimely death in 2006, continues to live on and capture the heart and soul of hip-hop heads like myself.
Two years ago, I was lucky enough to see this dynamic duo in action. Yes, on Monday 10th August 2015, I finally built up the courage to attend an old school hip-hop concert. Who better to see than Slum Village! At the time, I was really enjoying their new album YES! which was released a couple months before on Tuesday 16th June 2015. I didn't even know they were touring in London let alone performing in the Jazz Café. I just happened to stumble on an event page by the Doctor's Orders on Facebook. Unfortunately, the tickets had sold out and as I delved deeper and deeper into social media I began to believe all hope was lost. Then at the very last minute (I mean literally on the day) someone wrote on Facebook that they were selling a spare ticket and thanks to technological advancements and quite simply the 'e-ticket' the transaction went down without a hitch.
I went on my own and it really wasn't weird at all. I don't know why people feel so uncomfortable going to these things on their own. Haha, I encourage it! I enjoy it, it's liberating and not awkward at all. Infact you get to appreciate the music more. Everyone kinda just does their own thing, they're there for the music. But then again, I wouldn't go to the club for a night out on my own in a place I wasn't familiar with, so I guess that ultimately boils down to the fact that everyone is different.
Slum Village performed songs from their new album YES! including Tear it down, Expressive and We on the go!!! They certainly did not forget to accommodate OG fans performing songs such as Call me, Yes Yes, The Look of Love, Raise it Up and Thelonious. It was a special feeling watching the duo perform right in front of me. It wasn't at all what I expected in fact it was better. I was surprised at the amount of young people that turned up, it felt nice to know that people my age still enjoy that 'old school hip-hop vibe'. At least it was nice to know that I wasn't as eccentric as I thought. I then proceeded to post a video from the night on Instagram as you do.
A year later on Saturday 27th August at 7pm I saw them again at London's Jazz Café. I guess you could say that I just couldn't get enough of them and quite frankly I would probably see them about 100+ times more as I tell my friends on countless occasions. I know Daniella, it's enough, I know. But I don't know why every time I watch them it feels like it's the first time. It's always such an experience. So, like the eager beaver I am I wasn't missing no opportunities. Yes, I made sure I got the ticket ahead of time this time around 'no black people timing' as my friends like to remind me. I got there shortly after doors opened and I was immediately taken by the atmosphere, the vibe, the purple lights and the basement feel. I could feel the energy looming amongst the audience whilst the DJ kept us on own our feet with an array of old school hip-hop classics such as E=Mc2, Stakes Is High and Dilla's The Ugliest. I was in the mist of people who truly appreciated the quintessential hip-hop sound, so I knew it was going to be a night to remember.
After an hour of being immersed in throwbacks and dope remixes, a group from Manchester known as Children of Zeus took the stage. I hadn't heard of them before. Though, I was already aware of Manchester's eclectic hip-hop sound and regularly listened to artists such as IAMDDB, LayFullStop and the Mouse Outfit. I became aware of Manchester's underground hip-hop scene when I stumbled across IAMDDB ft Woody Green and Root Raddix – Telascope which I would recommend anyone to listen to. IAMDDB's vocals alongside the instrumental is what I believe completes the track. She is extremely talented. If you are reading this…you know what just stop what you're doing and copy and paste that into Youtube or Soundcloud.
When Children of Zeus performed their single Still Standing I was hooked. Tyler Daley's vocals were strong and the instrumental was smooth. I'm pretty sure I could hear elements of the backing track to Get Dis Money during the performance maybe that's why I was immediately engaged. To me Still Standing seemed like a neo soul & hip hop infusion – oozing hella Dilla vibes. It managed to capture the essence of Dilla's sound and establish it within the context of the UK rap scene. I feel like quite a few artists are doing this. Tom Misch and Nick Brewer seem to do this particularly well. Instead of completely copying a sound from another country and adopting a fake American accent as some have done in the past #NotNamingAnyNames. They chose to use these smooth, jazzy and soulful beats to create an authentic UK sound. Something that educates the world about UK culture. Be it through a video that shows the artist walking through their local neighbourhood or through anecdotes which show what it was like to grow up in the UK. Just as Mura Masa did in LoveSick which led to a lively discussion on Youtube between British and American students.
Slum Village came on shortly after. The hip-hop duo allowed us to relive my all-time favourites Fantastic and Tell me, the ultimate love song Fall in love and popular songs Climax, 2u4u and Call me. The audience also enjoyed Push it along and Expressive from the album YES! It was truly a night to remember.
---