This section includes answers to the burning questions we have always wanted to ask our favourite musicians and entertainers.
Monday 7th August 2017
That's Soul, That's Choklate
An interview with the singer
As many of my friends already know, back in the day I was a hardcore Drake fan. I stumbled across Room for Improvement on YouTube back in 2007 and I started listening to everything. From Thank Me Later to Comeback Season. I knew all the lyrics. I knew all the lingo. I even started watching Degrassi and let me tell you, it's not all hype. That show was the bomb! I began opening myself up to a world of underground hip-hop, a hidden sphere of RnB and neo-soul that I never really had the chance to explore before. I was introduced to a number of artists I had never even heard of. From the laid back lyrical flow of Virginia rapper and producer Nickelus F in The Grind and A Scorpio's Mind, to the placid sounds of vocalist Voyce in Smile. I grew to love the classic samples and witty rhymes of hip-hop's beloved group Little Brother, the soul of Dwele and finally one of the QUEENS of underground soul – Choklate.
Overdose was the first time I heard Choklate sing. Her sultry vocals, her runs and her indie-essence in the track was enough to put me in a musical trance, as I became immersed in psychedelic soul. Drake's witty and upbeat bars also added to the sound making it an unforgettable track. Choklate's voice sounded like liquid to me, it really flowed. I began exploring her music and her sound in more depth, which is how I found Grown Folks which features a cameo from Malcolm-Jamal Warner, who you may know as Theo Huxtable from The Cosby Show.
Choklate surely knows how to dominate a track with her soulful aura and deserves credit for doing so. She has also demonstrated her ability to manipulate her voice on a faster tempo and does so in Sun's Out, where she get's us up and grooving ready to take on the day ahead.
Introducing Choklate 
Who is Choklate? Tell the readers a bit the woman behind the soulful vocals.
I'm an artist, a woman, a cook, a baby sister, an auntie, a singer-songwriter, a bike rider, a horse lover, a baby of seven and a spiritual seeker. I'm working on being the kind of person I want to encounter out in the world.
 I love how you maintain your authenticity despite changes in the music industry. How would you describe your sound?
To be honest, I have never been able to answer this question. I feel like I sound like me. At least I hope I do.
Overdose ft Drake was actually the first time I heard you sing, a couple years back. How did it come about and what was the inspiration behind the track?
That track was specifically about my addiction to music. I wish I could give up and walk away sometimes, but I often find myself remembering words from the folks who've spoken into my life with encouragement – people I look up to that tell me never to quit. Overdose was about the sheer and utter bliss of an unabashed addiction to music. Tha Bizness produced it and it was Henry's mischievous mind that put that together. Glad he did. It's one of my favourite songs and Drake verses.
 Mine too! I've since heard an array of classics from you. You've got songs with the likes of Musiq Soulchild, Phonte and Rapper Big Pooh. Who would you like to collab with that you haven't already?
I would love to collab with Anderson Paak. He's an Aquarius, his cadence and the way he rides a track's beat is so dope to me. We're both Aquarians, I think the session and content would be vibe heavy. I would also love to collab with Van Hunt, The Internet, ApxMusic, Anthony David, Terrace Martin and Robert Glasper. In my dreams it would be…Isaac Hayes, Sam Cooke, Willie Hitch and many more. Those guys were pure magic.
Almost every artist I've interviewed said they want to collab with .Paak. He is one of my favourite artists. His talent definitely doesn't go unnoticed. What advice can you give to black women reading this who are struggling to breakout into the music industry?
Don't try to break in. Just be and embrace yourself and let the chips fall where they may. Maybe the industry isn't as glamorous as you think and freedom in the industry is definitely only available to a small select few. Indie is where it's at.
Unfortunately, there is a lot going on in the world at the moment. In the U.K. we are still recovering from the Grenfell tower tragedy and recent events. In America, many are fighting for black lives to matter. Many feel forgotten and neglected by a government whose main purpose is to represent the people. Can you shed some light on any of these issues? What is your opinion?
The world is a sick place. Especially America. We are not what the constitution speaks of and we're declining. We're missing love, compassion and a hunger for peace as a country. We are hell bent on war and dysfunction. My opinion is that nothing lasts forever, so something's gotta give.
That's true. Can you give us any clues about any upcoming music? What can we expect from you in the near future?
My new music is nothing like I've ever done. I'm scared sh*tless, but I really love it and I'm very proud of it. I can't wait to share it.
CONNECT WITH CHOKLATE:
---
Saturday 29th July 2017
Meet Sipprell
An interview with the songstress
What I admire most about Sipprell is the strength in her voice which speaks volumes, the message in her lyrics which tells a relatable story and the versatility in her style. I first fell in love with her song Trust Issues, where she brings to light the issue of trust within a relationship. "Gave up on the myth of love, but I hope that you prove me wrong", Sipprell sings with a soulful and calm demeanour. "I want to believe you so much, I'd be lying if I say I didn't need you", Sipprell goes onto sing, causing us to reminisce a time when we may have struggled with letting someone we love go after facing disappointment. The song evokes a great deal of emotion with the dream-like backing vocals which beautifully accompany the soft melody. I then became smitten with Essence. The song which I believe has a club-like feel, allows the singer to demonstrate the versatility of her voice on a slightly faster tempo. Let's just say Sipprell's delicate vocals and meaningful lyrics has the power to get you in your feelings.
Who is Sipprell? Tell the readers a bit about yourself in a couple of sentences.
I'm a singer-songwriter from South London. Music helps me through this crazy life…
I like that. How would you define your sound?
It lies somewhere between electronic RnB and acoustic soul, but I don't like to box myself in. I'm always experimenting with new sounds.
I get that. Who would you like to collab with that you haven't already and which artists do you look up to?
Collab wise…Sampha, Denai Moore (I love her new album), Rukhsana Merise, Noname, Kelela and Flying lotus. My inspirations are endless. James Blake, Anderson Paak…artists who aren't afraid to be different and have influenced and opened up the music scene. I love Solange. A Seat at the Table is one of my most played albums. Also, Lianne la Havas because she has one of the best live vocals I've ever heard.
I gotta agree with you about Lianne La Havas on that one. Her range is crazy! Yes, it's great to see Solange finally getting her props. Nice to see FlyLo in the mix there too, he produces the wildest beats. Have you always wanted to pursue a career in music?
Yea, definitely. My mum was a singer and I grew up in a musical family, so I started very young. I've never wanted to do anything else.
That's inspiring. What experiences have you had along the way that could encourage young artists who are struggling to breakout into the industry?
Some of my experiences have been pretty dark, but I'm more resilient because of them and they've inspired a lot of my writing. Expressing what's real to you is what connects with people and that's something you can't fake. If you love what you're doing, stay honest with yourself and remember to enjoy the journey, you'll be fine. Try not to get obsessed with how much time you think you have. You can't rush art.
That's real, I definitely agree with that. I actually watched you perform at the Roundhouse back in February. I really like how manipulate your voice and reach such high ranges. Your music resonates. Staying on the topic of the youth…what message do you want the youth to take from your music?
Thank you! My music seems to resonate mostly with young women. I think we all go through similar struggles. I want people who listen to my music to know that it's alright to make mistakes. It's normal to have issues with yourself and in relationships. In the end, it all helps you grow and one day things will get better.
 It's definitely nice to hear that once in a while. It does get better! Can you tell us a little a bit about your EP Letter D. What was the inspiration behind the song Essence?
Letter D was the first project I put out. Within the 4 tracks, you get to see very different sides of me. I wrote all the songs about people beginning with the Letter D. I remember the first time I announced the title at a gig, everyone laughed! I didn't get the joke…
Essence is about trying to find yourself again, after you've been through something life-altering. For me personally it was about a really unhealthy relationship I had. I felt like it had changed me as a person and I wanted to feel like how I did beforehand. That's why I say in the lyrics, "bring back the essence of me".
Where do you see yourself in the next five years?
To still be doing what I love, to be touring and sharing my music with people all over the world.
Stay in touch with SIPPRELL
---
Wednesday 26th July 2017
Let me put you onto Ivan Ave
An interview with the Norwegian rapper
I remember stumbling across a song called The Circle by an artist named Ivan Ave, during my second year at university. The music video has that old-video-footage-style, but Ivan keeps it fresh spitting that chill rap as he rides through the neighbourhood.
It's the hook that immediately got me, it's smooth as sh*t – that jazzy undertone mixed with that authentic hip hop sound had me head bopping for hours. I had to put it on repeat! It really got me through exam season. I noticed that it was produced by Mndsgn who does mind-boggling things with a beat and a sample – his talent is undeniable. I couldn't believe this was the first time I was hearing of Ivan Ave, as I was already familiar with Mndsgn's work. After having rinsed The Circle to the point of no return, I began doing more research about Ivan on various platforms. I wanted to hear more from him. I wanted to see what he was about because The Circle really had me hooked, for real – after that I was fan. I then stumbled across the song Machines (also produced by Mndsgn) from Ivan's LP Helping Hands. I can't even begin to describe how I felt listening to it for the first time. I feel some type of way whenever I come across hip hop artists who maintain jazz and soul in their songs. It has sentimental value, I guess it makes me feel nostalgic because I grew up on jazz. Ivan's flow on Machines is captivating. All the components in the song seemed to come together perfectly. You know when you sit there truly appreciating a song and you're like "damn this is beautiful". Yeah, that was me. I had that same feeling when I heard Momma by Kendrick Lamar off his album To Pimp a Butterfly. You know, when the instrumental is beautiful and they come in spitting that real sh*t that really makes you think. That's the best way I can describe it. It was really nice to see some of the musicians who have also greatly impacted me such as Dwele, D'Angelo and The Roots, being appreciated in the video.
Introducing Ivan Ave 
Tell the readers a bit about yourself in a couple of sentences.
I live in Oslo. I'm currently exploring my paths as a lover of sound and rhythm. These days, I'm finishing a record that I've worked on for about a year. It's been a very interesting year.
You've got that chill rap vibe. Your flow and lyricism stays on point! How would you describe your sound?
I guess my stuff is rooted in a lot of sounds from the 70s and 80s, but also informed by newer music that I listen to, ranging from jazz to RnB to lo-fi house music.
That's a nice variation. So, who are your biggest inspirations?
My crew Mutual Intentions keep me inspired. There's always some fresh perspective to be found within the group's output, through visual art or on the music side.
Who would like to collab with that you haven't already?
George Duke.
The Circle was actually the first song of yours that I listened to. The instrumental coupled with your flow brings back that old school rap feeling that I love so much. What is the inspiration behind the story you tell in the track?
Just some circular tendencies within my life that I observed and felt probably rings true to a lot of people. We get set in our ways and those patterns take many shapes. One of those shapes is the circle. It's also pays homage to my circle of friends.
It really is a relatable track. I actually didn't look at it like that at first. The circle is a great metaphor for situations in our life that keep recurring. What role is your heritage or background playing in your upcoming album?
This album I'm about to put out called Every Eye is inspired by my childhood. I've tried to use a child's eye on things in writing this record, to just ask questions and be very naive. So, I'm sure my own upbringing is audible in the music somehow.
Nice and I can't wait for you to put that out. What do you want your music to bring to the culture? What do you want the youth to take away from your music?
I don't want to be too ideological in my work, I just want it to be free – an expression of my situation. Maybe that's an ideology after all. I've always had an ambivalent relationship with the way music becomes a commercial commodity. It's kinda weird when you think about it, like what if kids who love to draw were constantly reminded that the broader audience likes purple more than yellow. I write and record alone. I like the idea of just putting something together the way I want to and then putting it out. If I ever help a younger person find that creative space, that would be dope.
I really like the way you worded that. I never actually thought about music in that way. That's an interesting perspective. I noticed that Mndsgn has produced a lot of your tracks. Why is that?
Ringgo is a good dude and has been a huge influence and contributor to my work. We linked up a few years ago for my EP Low Jams and I have worked with him ever since. His production always speaks to me, so it's a no-brainer for me. Very grateful to have him heavily involved on this next LP as well.
Well, I guess I speak for everyone when I say keep these collaborations coming! Finally, where do you see yourself in the next five years?
In the woods somewhere, kicking back with a beer.
Ave recently released his latest single Fast Forward from his upcoming album Every Eye, which is set to drop on 29th September on Jakarta Records. Check it out below.
Connect with Ivan Ave:
---
 Friday 14th July 2017
Meet the dope duo Young T & Bugsey
An interview with Young T & Bugsey
During my first year of university, I decided to keep my ear to the streets in search of emerging talent from the UK. As I'm sure you know by now, I am a hip-hop head. I grew up on networks such as Channel AKA (what many back then knew as Channel U) which helped to showcase emerging talent from the UK. Yet, I found myself focusing more on emerging talent from the US. I reckon that's happened to everyone a least once. There's a vast amount of talent that stems from the US reaching across the globe and because of this it's easy to forget that there's still so much coming from our home scene. Being at university helped me to realise that. I started following Link Up TV and GRM Daily, which is where I stumbled across this…
The freestyle was strong, as were their lyrics and flow. I really liked how they incorporated popular lines from The Game's classic How We Do whilst making it their own. They came out hard and they were doing it together. Two best friend's from Nottingham that were managing to captivate the youth with their witty bars, charisma and charm. They came to perform at my university (yeah, I'm not going to disclose the name) shortly after I started bumping their music. I was out there singing No Mickey Mouse Ting word for word…'2.a.m she made my iPhone bling', I said with confidence. My friends were looking at me knowing I had rinsed the track, which was true lol. Yet, I continued to belt it out with no shame. Their energy captivated the audience and even those who hadn't even heard of them became intrigued. I knew they were set to blow.
Introducing Young T & Bugsey…
Who are Young T & Bugsey? Tell the readers a little bit about yourselves.
Young T & Bugsey are two best friends from Nottingham. T's from Jamaica and I'm from Nigeria. Our sound and style of rap stems directly from both our heritage and childhood. As kids we liked listening to people like 50 Cent, Ja Rule and Pharrell etc
 What is your opinion on the state of the UK grime scene today and which artists do you look up to? 
The scene right now is probably the best it's ever been in terms of life changing opportunities and an actual successful and lucrative career in music. Unlike before in the scene, when people were putting out great music and giving it their all but not making no money to show for it. Now there's more of a proper business infrastructure in place, so everyone can make good music and also make money to feed themselves and their families.
Yeah, I definitely agree with that. Who would you guys like to collab with that you haven't already? 
We wanna do a song with the Migos, 21 Savage, Rae Sremmurd…UK wise AJ Tracey. We've worked with AJ now. Got a banger with him!
Can't wait to hear that! I was actually on YouTube the other day listening to one of your songs and someone commented saying that they wanted you to collab with Rae Sremmurd. So you know…we're waiting on it. Where do you see yourself in the next five years?
In the next five years, we think we're gonna be firmly cemented into the UK scene doing songs with UK greats and overseas superstars. If we are not there in five years, then we haven't worked hard enough, because all of that can really be a reality.
Nice and it definitely would be nice to see some more collaborations with artists overseas. I don't think there's enough of that. What advice would you give to young musicians and entertainers struggling to break into the music industry?
A lot of new artists work really really hard, but they don't work smart. They just dash songs and freestyles out on YouTube, but don't get it on iTunes or Spotify. They don't get their brand nice. You've gotta know what you bring to the table, then get your brand right and stick to it. Stick to it and believe in your own sauce. Like really, that's all it is. Working smart and believing in yourself.
True. What do you hope to bring to the culture? What do you want the youth to take away from your music?
What we bring to the culture is pretty different to the norm because we're not from London and you can hear it in our songs. From our accent to how we pronounce stuff and even our slang…it's different to what's already out there.
Yeah, I clocked that in Glistenin' actually. Last time I checked Gangland is sitting on 2.6 million views on YouTube. That's wild! How does it feel to see your music making waves across the country?
Whenever we're out and about in Notts (Nottingham) everyone recognises us and it's always all love. We don't have any beefs or problems with anyone. When we go to London or other places in the UK, like Manchester or Brum (Birmingham) and people still recognise us and ask for pics it's mad! We still just see ourselves as normal guys, we don't think or act like we're famous or some sort of celeb. It's mad when everyone else we come across treats us like we're more than normal guys. It's very humbling to be honest.
You're songs are hella catchy! Right now I'm bumping Gangland…a couple months back I was hooked on No Mickey Mouse Ting. What was the inspiration behind that track? 
Basically, those two songs are like 'cultural songs', if that makes sense. When No Mickey Mouse Ting came out everyone was using that saying. It became part of the culture, part of everyone's slang and day-to-day dialect. Gangland is the same. Bare people say 'Lifestyle Gangland' now! They are 'cultural songs', that's what we think about when we're making our singles – we keep that in mind. We make songs that really have a impact on the culture and people can attribute the lines or slang in the song to Young T & Bugsey.
What can we expect from you guys in the future?
We've got a new single coming out called 4×4 and the video looks crazy! We're looking to do a headline show in Notts this year (towards the end of the year) and maybe a mixtape this year too before that. Then, we're hoping to do a tour at the start of next year. That's the plan.
Keep up with their musical journey on their social media networks:
  @YoungTArtist   &   @BugseyETMG
 @youngtmusic  &  @bugseymusic
---
Sunday 9th July 2017
My friend's about to put you onto One Acen
Get to know the artist…
Katherine: Dani, have you heard of One Acen? He's talented you know. Heard him feature in a song with Tion Wayne. His voice and rhythm is different to what I've been hearing from the UK music scene.
Me: Oh really. Lol, I'm not on job I've actually never heard of him before.
Katherine: Defo check him out. Tion Wayne posted one of his songs on Instagram actually…Psychic. Yeah, it actually bangs. His flow is mad, it's playful and the story he tells is really relatable. He's got potential. I'll play it for you…
Me: He's got mad potential. I'm loving this 'playful vibe' it's refreshing. The lyrics are catchy as well which is an added bonus.
Katherine: Yeah, he's really doing it differently. A lot of UK artists have that Afrobeat-influence in their songs which is cool…but he's going for a more hip-hop/R&B kinda thing. You can really see that coming through in his songs.
Me: Yeah I see that. Though, this infusion of cultures and genres is working for a lot of artists right now as well.
Katherine: Yeah true. I think his old school R&B vibe is really cool though. He's mixing the old with the new and he's doing it well. Here's another track I think you might like…
Me: Yes. Rolling again is another good one. The sound is different to the other track as well. He's versatile. It looks like it comes so easily to him…you can see he's got raw talent. 
Katherine: Yeah. He's just having fun with it. He's in his own lane. Later check out Pattern too. His songs really have depth. Beneath is a really meaningful track… like I think he might have lost someone close to him (I could be completely wrong though). He makes a reference to the way he moves as well when he says "I'm just tryna lay low…". You can tell he's just on his grind. He's dedicated to the music.
Me: I like that… it's almost a reveal into the 'person behind the artist'. It's got a bit of an old school UK garage feel to it as well.
Katherine: Yeah. He's reached 3k on Instagram now which is great, but his talent deserves 10k minimum man. I personally don't think he's out there enough and you actually can't fault his material. You know them artists that completely switch up the vibe of a song they feature on…yeah that's him. He's in my top five artists and that's alongside J Hus, Drake and J Cole…
Me: I hear that. There are definitely a lot of artists that need to be heard. I heard that Nipsey Hussle reference in one of his songs so you know I'm sold. Lool.
Katherine: He's got a mad vibe about him. No shade but some artists have come out with songs that can't even touch his flow or lyricism…he's doing throwback feels man. I'm a 90s baby we need to bring them vibes back!
Me: Loool, yeah I defo agree. Well you know I'm about to rinse all them songs you gave me. Psychic will get rinsed on the way home…I apologise in advance but it has to be done loool. Well let's see if I can get an interview with him. Maybe we can spread the word…
Introducing One Acen… 
First off, why One Acen?
Random lol, used to be called "Youngace" which turned into "Acen" somehow, then eventually "One Acen". Like, there's only One Acen.
What is your opinion on the state of the UK grime scene today and which artists do you look up to?
I think the scene is in an amazing place. So many different artists with different styles…easier to hit the mainstream and artists can make more money than ever before, sick!
Where do you see yourself in the next five years?
In the next five years I wanna be two or three epic albums in lol, definitely want to be considered one of the best to come from our scene, if not the best.
What advice do you give to young musicians and entertainers struggling to break into the music industry?
Don't settle for anything less than amazing, work on your craft, once you start releasing…be extremely consistent.
Word. What life lessons have you learnt along the way that would be useful to the readers?
Things take time, even when you don't want them too. You NEED good friends that will always tell you the honest truth…not the things you wanna hear.
Is there anyone you would like to collab with?
Artists? Erm, Avelino, Giggs, Donae'o…
That's a good mix and Donae'o is a great pick. Funkyhouse should definitely make a comeback. Psychic was a dope track. Very relatable and different. What was your inspiration behind it?
 I had a completely different hook and topic on the beat before. I ended up rewriting it all and I got the whole Psychic idea from the "I see the future it's me & you whipping them foreign's" bit in the bridge.
Beneath had a lot of potential! What can we expect from you in the future? What themes or ideas are you planning to address in any upcoming songs or your next project?
100% more good music. That's all I care about if I'm honest. I just wanna make music that people feel in their SOULS loool…with sweetest melodies ever! Defo gotta put a project together sometime soon though. I think I owe it to the people…
You can keep up with the artist's music journey on his social media:
---
Saturday 8th July 2017
You better not $hun him out
An interview with $hun
The other day I was on the train scrolling through new songs on SoundCloud when I came across this artist called $hun. His bio read "Got tired of waiting on artists to drop new music so I decided to do that shi*t myself"…he seemed real to me so I wanted to hear what he had to say. I started with his track '09 JAMS. because I saw that it was produced by 9th Wonder who happens to be one of my favourite producers. Yes, JAMLA is The Squad. I knew if it had that 9th Wonder beat it was sure to be a great song.
After hearing the track I was sold. Not only was the beat fire but $hun's mellow flow and lyricism was the perfect accompaniment. I noticed that the song came from an EP he released this year titled WILL RAP 4 A WAY OUTTA HERE which comprises of 12 songs which I then went on to listen to. This is what the artist had to say…
Tell the readers a bit about yourself in a couple of sentences.
My name is $hun and I'm an up and coming hip-hop artist out of Houston, Texas. I've been making music going on three years now. I'm not really fond of the new age of hip-hop. To me, Jay-Z is the GOAT.
How would you describe your sound?
I would describe my sound as me. I look at hip-hop as an intelligent movement and I feel like a part of that is taking your influences and creating your own sound. I feel like that is what I do. My sound is hip-hop with my own twist to it.
I like that. Who are your biggest inspirations?
My biggest inspirations would have to be three artists. Jay Z, Curren$y and Dom Kennedy. I really love how they attacked the music industry with their own rules and gained a fanbase. So when they meet with big name labels, they have the leverage to demand the things that they want.
True. Dom Kennedy's album Get Home Safely didn't get the recognition it deserved. I'm still bumping Still Callin. Is there anyone you would like to collab with?
If I could collab with anyone at the moment, it would have to be off the top of my head Jay Z. Other than that, at the moment it will have to be Anderson .Paak. He's so dope to me.
Anderson .Paak is actually one of my favourite artists. I'm glad you said him. Now that would be a collaboration I'd love to hear! What is your opinion on the state of the hip-hop industry today?
I feel like the state of hip-hop is at a good place. I know people like to say it's the age of mumble rap but if you ask me, two of the three kings of hip-hop right now are conscious rappers (Kendrick and Cole). You've always had different branches in hip-hop ever since the start of the 2000's. It's just that the real hip-hop is what is timeless and what sticks around.
Where do you see yourself in the next five years?
In the next five years I see myself still at it and grinding. As long as I'm still progressing in five years then I'm fine with that. Whether I'm on or not.
What advice would you give to young musicians struggling to breakout into the industry?
Keep pushing and never compromise your art. If you like it, then believe somebody else does as well. You need to always know there are enough people in the world for everybody to have fans. Do what YOU love and make what YOU like.
You've got some really dope tracks on 'WILL RAP 4 A WAY OUTTA HERE'. What was the inspiration behind it's name?
I'm honestly not sure where the inspiration came from lol, it just came to me one day. It was around the time of the presidential election as well, as a string of unfortunate incidents have happened to my people over the past few years. So I wanted the title to represent multiple angles. Will rap for a way outta this society, out of this realm, out of this age. It can represent so many things to me.
Can you tell us a bit about the themes or ideas you are thinking of addressing in your next project?
C'mon now, you know I can't do that. Just stay tuned…
---
Monday 3rd July 2017

MELLOWDIC
An Interview with Lex Amor
I found The Mellowdic Show a couple months ago during exam season whilst on the hunt for new podcasts/playlists to listen to on SoundCloud. I wanted something chill, but refreshing, I wanted to hear a compilation of artists I hadn't heard of before. You know something different. Something that you could study to but also vibe to with your friends or listen to on the way to the library for instance. I happened to stumble across this…
I was completely sold when I heard the first track. Let's just say I'm a sucker for soulful vocals, so I was really into it. I started researching more about The Mellowdic Show, I was already a fan of SOULECTION so I just wanted to know a little bit more about it. I found out that The Mellowdic Show is run by Lex Amor who has a two hour slot producing these sultry vibes on Reprezent Radio. So, you can actually tune into Mellowdic live every other Tuesday from 1am-3am. I managed to get an interview with Lex. Here is what she had to say…
Tell the readers a bit about yourself in a couple of sentences. 
Lol I'm really just Lex – music lover from London. I am both in love with and confused by life. I like making music and chatting sh*t with my mates.
Introvert or Extrovert?
Lol closet introvert.
What advice can you give any young readers who want to do what they love but are afraid to venture into the entertainment industry?
I mean I would suggest everyone unpacks their fear first. Before ignoring fear or attempting to overcoming it, I think it's important to reflect on where it's coming from. Most of our trepidation when it comes to most things can be linked to our fear of perception and/or failure. I believe everyone is called to purpose, nobody will understand your essence more than you and by extension no one will share your regret. Your world is your own, so do whatever you want to do. Cliche, but real sh*t lol.
Real sh*t. So, do you have any life lessons/experiences you would like to share with the audience? 
I would say just focus on being a genuine, clean-hearted human being, look after your people and work hard. Your essence and integrity will defend you.
True. As young people it's easy to lose that trying to be noticed or get to 'the top'. As a podcast/radio show where do you hope to see yourself in the next five years?
Literally would just love to still be here sharing and listening to music. It's beautiful to have people that actually listen and take in the show, so I will be blessed to have that continue.
I hear that. Who are your biggest inspirations and what motivates you to keep going?
I love everyone man, it's wild. Musically, James Blake, D'angelo and Lauryn – to name a couple. I'm motivated by my fear of my own regret, lol I wanna die empty. I just want to explore the edges of my ability and help people whilst doing it.
All my favourites as well really. Honestly, I have that same mindset. I think a lot of people do. I have to say my personal favourite is definitely show 034 with Caleb Femi. Which show have you enjoyed the most and why?
I rarely listen back to them, I would cringe a hole in the ground! I love recording them though and most recently infusing the interviews in with the shows has been nice. I've loved all of them man, couldn't pick – people seem to like 020 though, I'm kinda scared to find out why lol.
Oh dear haha. Why start a radio show/podcast? How do you differentiate yourself from others out there? 
Love to reprezent man. Mellowdic was a blog before the opportunity came along. At first I wasn't sure if I wanted to bring the two together but was encouraged by some guys at the station to bring parts of my essence to the show – so I did and the rest is …almost history lol.
---
Sunday 18th June 2017
Introducing Namebe Soul
A conversation with the artist
The other day a friend of mine asked me if I had heard of someone called Namebe Soul. I hadn't. So he played me one of his tracks on SoundCloud called Posers .ii.
From the moment he pressed play I could hear the smoothness of the melody as it grew in sound and intensity. I began to fall in love. It brought me back to the feeling I felt when I listened to BJ the Chicago Kid's mixtape The M.A.F.E Project. The feeling of being immersed in a soulful beat that has you lost in thought and song. Then Namebe comes in preaching with 'I speak with the voice of an elder' and lyrics and rhymes that tell his story. I was blown away by his talent in that one song. 'I want people to hear about this guy', I told a friend. I just had to get an interview with him…
Hey Namebe. Tell the readers about yourself in a couple of sentences.
I go by the rap name of NamebeSoul. I was born in Lagos, Nigeria on the 15th September 1994. I fell in love with music from a young age and would later fall in love with rap at around the age of 15.
For readers who are hearing about you for the first time. How would you describe your sound? 
My sound has been all over the place coming up but has settled around soul and jazz. Though, I believe in growth and development so my sound can be expected to take different shapes as I reach different points in my career. I specifically wanted this project to sound like what a child from Kunte Kinte and Maya Angelou, also raised with the help of your not so average black woman (my mum) would sound like if he rapped. But I have noticed I just naturally find my ear sitting with jazz influenced sounds.
Who are your biggest inspirations?
My biggest music inspirations include Michael Jackson, Kendrick Lamar, Nas, Black Thought and Kanye West. I mean Kanye was the main reason I even started rapping in the first place…around that graduation point. I just thought, man. I wanna do this. Since then the rest and many more just came to inspire me. I'd say my biggest inspiration right, at this very moment is Kendrick Lamar. The guy is just different. Everyday my aspirations are to reach his level. To ball on the same court as him.
What do you hope to bring to the music industry?
What do I hope to bring to the industry? I wanna bring hard work. I want the industry to work harder. I want rappers to feel nervous if I get on a verse with them. I want everyone to raise their game. I know it sounds pretentious, but I want us to further this thing called Hip-hop. So, I will push myself and hope that will push others to be more creative. To push more boundaries. To be uncomfortable…
What do you want the youth to take from your music?
I want the youth to take the same. Just like how Kendrick inspires me by pushing himself. I also want the youth to once again pay attention to lyrics. That would be my dream. To get across the messages from my bodies of work in a clear and defined manner. I want the youth to know that having a mixture of hardwork, persistence along with talent is the key. It wasn't easy when I started rapping. It still isn't easy now, but if you love something you keep working. You will reap from the work you put in.
Where do you hope to see yourself in the next five years?
Hopefully in the next five years I hope to be working on my 2nd album. I hope to be around some of the best musicians in the world, who would also be involved. If in doing all this, I'm independent on a label created by my brother Scott Xylo, I would be grateful. I just want to see myself earning from my music and doing what I love to feed myself and my family.
You can keep up with the artist on his SoundCloud:
Namebesoul
---
Friday 9th June 2017
          That's what Ayowrote
                     An authentic interview with the spoken word artist
This emerging Nigerian spoken word artist continues to create music with relatable rhymes, thought-provoking anecdotes and crazy instrumentals.
I first stumbled across Ayowrote on soundcloud and instantly fell in love with his sound. I was taken by the realistic rhymes and melody of ChrchGrl\Demo and the compelling narrative in Love Hard/Bae and have continued to follow his movements.
I got the opportunity to ask the artist a couple of questions…
Was music your main aspiration?
I don't really remember having any main aspirations when I was younger. I think I fell into music because I just loved the art form. I started off just taking in spoken poetry and drama.
How has the journey been?
The journey has been fun learning and understanding the music I'm making. I enjoy fusing music and poetry at its purest form.
Who are your biggest inspirations?
My biggest inspirations are my friends and people around me that strive to reach their dreams. Notably Nathan Miller a super talented filmmaker and another friend, actor Kayode Ewumi they inspire me the most.
How would you describe your sound?
I'll say it's just very local, exciting and innovative. I just like to mix genres and have fun with it.
What themes do you like to address in your songs?
Real life. Relationships and personal growth.
What do you want the youth to take away from your music?
I don't know yet what I want people to take from my music. I want them to love it and understand it mostly.
You can listen to more of AyoWrote's songs on his Soundcloud:
Ayowrote
---
Thursday 8th June 2017
IAMDDB: the wavey songstress from Manchester
An interview with IAMDDB

The enigmatic urban songstress who describes her sound as eclectic dreamy vibes, brings a unique energy to trap, jazz and hip-hop beats. IAMDDB is an artist you need to keep an eye out for. Her music sets her apart from many other artists today and is part of a growing wave of new underground talent in Manchester.
I first stumbled across the urban songstress on Instagram when I heard her soulful, smooth and harmonic vocals in TELASCOPE which I loved due to it's modern-day Erykah Badu vibes and it's neo-soul and jazzy sound. It also made me feel a sense of nostalgia. I felt as though I was a young kid again in the back seat of the car, staring out of the window whilst my Dad played one of his jazz mixes.
"I love to have a smooth vibe over everything I touch. Almost like you're hearing your dreams, or being hypnotised. I want my listeners to feel like they can connect to what I do and say".
I was mesmerised by the uniqueness of her voice, her range, her style and her Manchester-esque vibe.  I then stumbled upon UR HIGHNESS which I found myself nodding my head and singing along to. Her dream-like vocals in JAZB (her rendition of a Flying Lotus track) transported me back to the day I heard Amel Larrieux in Berries and Cream. Her voice as soft as a whisper still manages to speak volumes about her vast vocal ability. The repetition of the words 'fairy tale' and 'stories' maintains the light-hearted tone created by the melody. It made me feel care-free. It brought back a sense of nostalgia as I started to reminisce my childhood. Specifically, the days I used to go on the swings at the park with my friends. Like with everything in life I was always so determined to swing as high as I could and it is that very moment, the moment that the swing propels me to the highest point in the sky that IAMDBB's vocals take me. It's amazing that. How you can get so lost in music.
Her music channels positive vibes for the youth. In an interview with the songstress she addresses this where she said "I want the youth to understand and really believe it's ok to love yourself just the way you are. The more we realise this the more love the world will feel".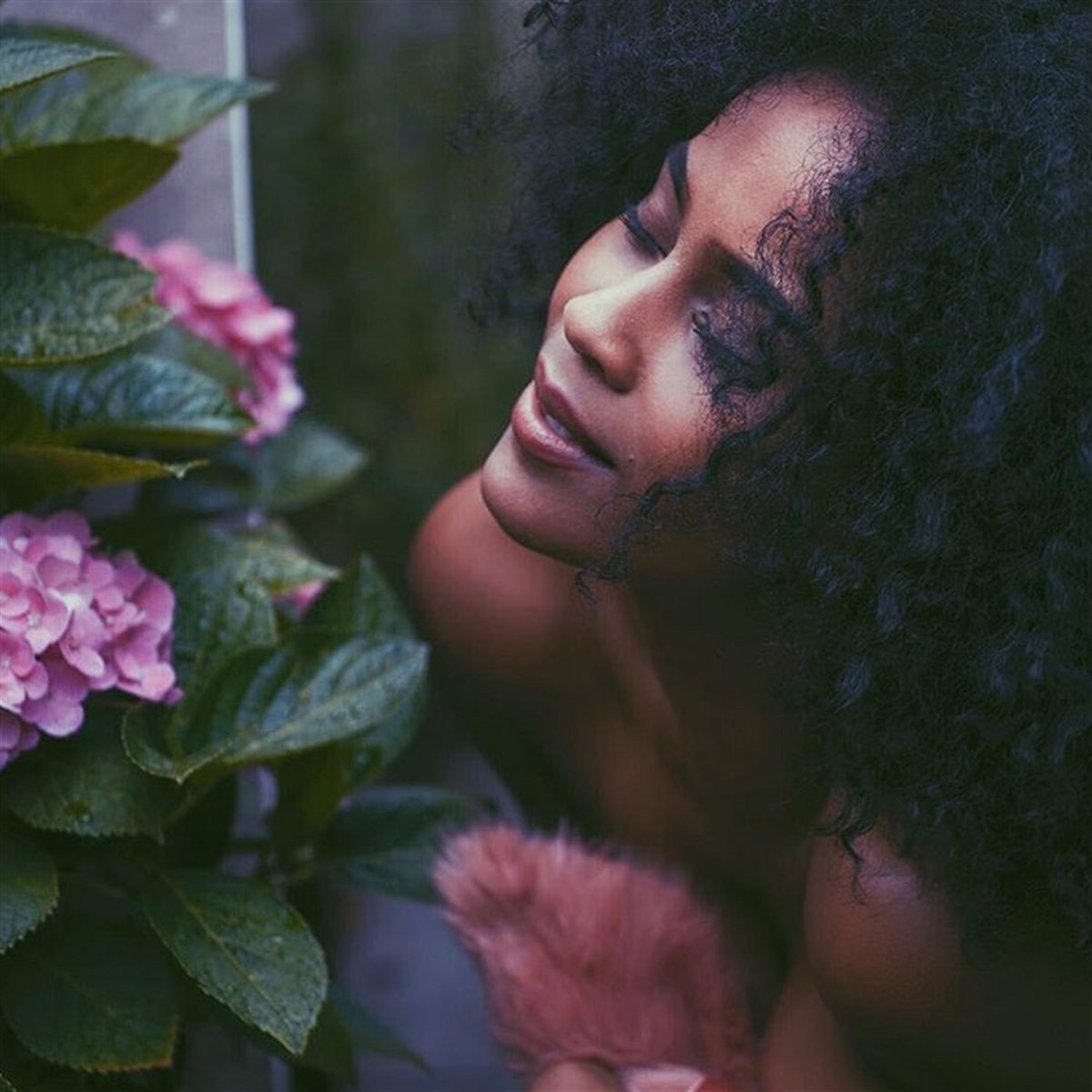 When I asked the singer who her biggest musical inspirations and motivations were she answered "Bob Marley 100%. He just inspired me to be real and honest with myself. This whole keep it g movement is owed to the king himself". She also went on to say how her musical journey has been so far, she said "it's been a vibe. It's been a personal learning kerb both in life and music. It's a constant journey of lessons. I dig it."
You can find out more about the up and coming artist on her social media:
 IAMDDB        
 IAMDDB_    
 IAMDDB_