This section includes conversations with our favourite social media influencers and creatives.
Monday 14th August 2017
VIBRANCE, COLOUR AND CULTURE FROM NWAKA OKPARAEKE
A chat with Nwaka Okparaeke
Hey Nwaka. Can you tell the readers a bit about yourself?
I'm a female Nigerian and English visual artist based in South East London.
Being of both of a mixed heritage, how much of a role does that play into your photographs?
I think my mixed heritage plays more on the subconscious side. I've noticed that I use a lot of mixed heritage models. I think this could be because I like to see myself reflected in my photography.
How would you describe your artistic style?
I would say it's loud and dreamy. A true representation of my mind.
What I admire most about your work is the way you use colour and contrast to express emotions, beliefs or perceptions. From being care-free or confident to encouraging others to openly embrace their heritage. What do you want your photographs to bring to the photography scene in the UK? 
I hope my work will bring a bit of vibrancy to the more subtle and less colourful digital art, seen in London these days. Also, I would like to contribute to the progression of bringing a wider range of people from different backgrounds to the scene.
I love that! It's nice to see diversity in photography. Being a Nigerian myself I think my personal favourite is this photograph. I love the way you've used Ankara fabric in the background. What was your thought process behind it?
If I'm 100% honest, I can't remember what motivated me to create this. It feels like I did it such a long time ago. It might have been around the time when I just shot whatever I was attracted to. A time when I didn't put specific concepts behind my work. Instead, I let the fact that I was letting my mind speak through visuals be the concept. Basically I just freestyled. So yeah, up to now I'm not sure what my mind was telling me, but I'm still very attracted to this photo so I think that's interesting.
That's interesting. So, when did you realise that you wanted to pursue a career in photography? When did it hit you? 
It hit me when I was in secondary school. I found out that there was a career called fashion photography. Since then, I've taken time to try to learn photography. I'm quite a spontaneous person, so I didn't really have any specific reason for picking it. It just seemed cool, so I was like yeah sure let's do this. It was probably about a year and a half ago that I found out about conceptual art and how much art is representation of ones feelings. So, it wasn't till around a year and half ago that I started seeing my work as art rather than just photos. From that point onward, my photography just took on this cool colourful style that I would have never predicted to have happened.
That's a very cool story haha and the direction your photography is going in really makes you standout amongst the crowd. Are there any photographers that you would like to work with in the future?
I don't look up to any photographers. I can't imagine myself doing any personal shoots with other photographers. That would feel very invasive. If it was for something else, not too personal, then anyone that I can create a cool vision with.
From your experience so far, is there any advice would you give to young photographers who are struggling to breakout into the industry?
I don't really think I'm in the industry properly myself to be honest, but what I'm trying to do is focus more on myself. Keep my mind and body healthy. One way of doing that for me is by creating art. By focusing on doing whatever comes naturally and listening to my mind and body, I'm creating things that people are attracted to. This is sort of leading me into the industry. I think patience is always good and doing what you most enjoy so that the self motivation to do incredible things comes naturally. If I'm honest I'm still young in this, so I'm probably not the best to go to for this advice. Just do remember to put mental and physical health first.
That's true. What's next for you? Can you give us any hints about anything you are working on?
I'm working on a short film. Hopefully that will be out by the end of this year. I'm also working on playing with other mediums like graphics and painting.
'OUTLOUD' – check out Nwaka's short film below:
"We live in a society that moulds us into people that compress any feelings or thoughts that do not fit into general standards. The interesting thing is when we do eventually speak out on what we thought was so "weird" about our self, we realise almost everyone around us has felt or feels the same in some way or another. Even if this isn't the case, we still shouldn't feel as if our feeling and thoughts are invalid just because the others directly around us can not relate. Instead we should accept and embrace this difference and allow it to become a strength".
See Indiegogo for further details regarding Nwaka's campaign.
STAY CONNECTED WITH NWAKA  
---
Friday 21st July 2017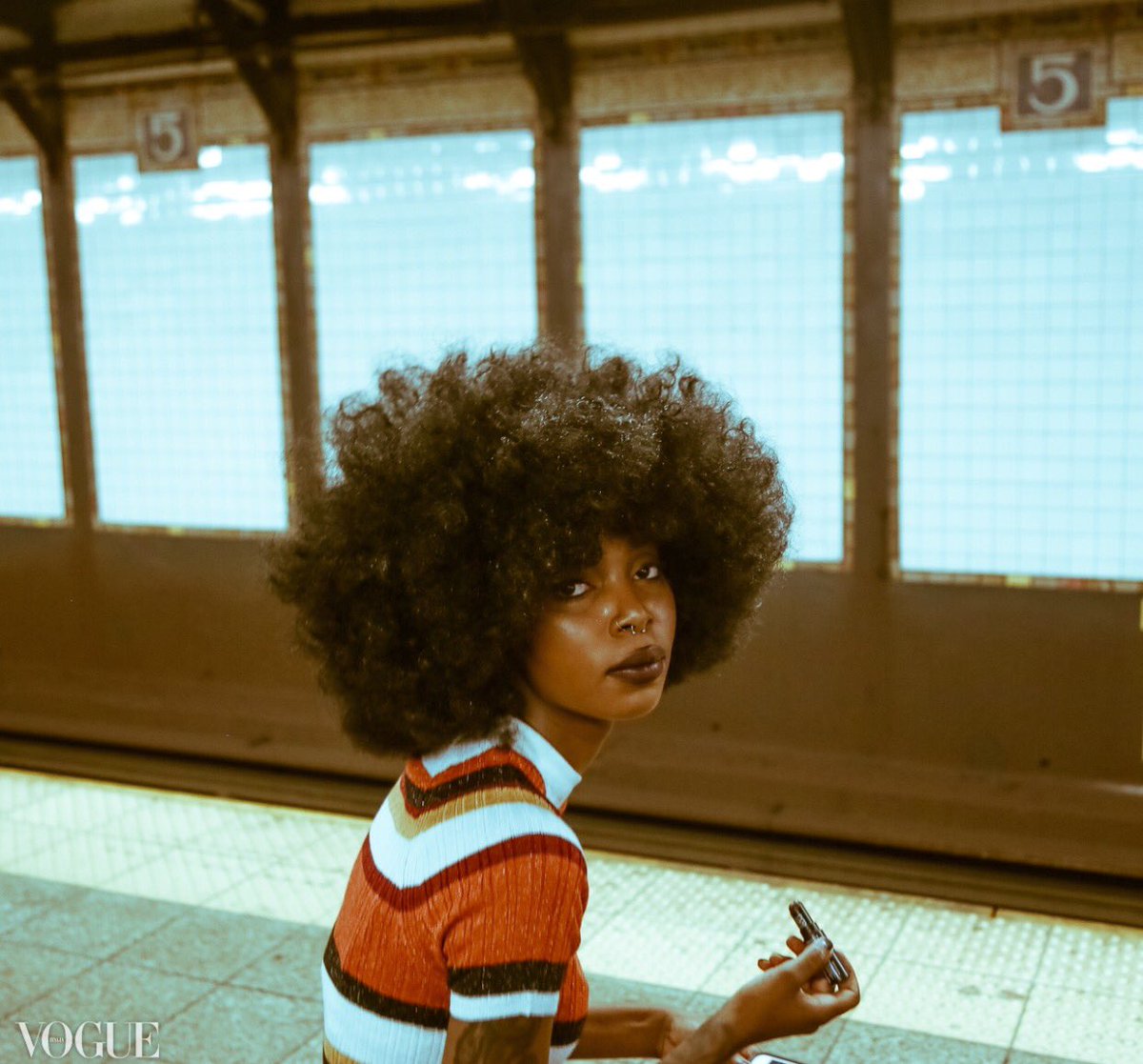 That's Widny Bazile
An interview with Widny Bazile
Who is Widny Bazile? Tell the readers a bit about yourself in a couple of sentences.
Widny's just a girl from Haiti with big dreams, hopes and won't stop till she gets them!
Who are your biggest inspirations and why?
I always say this, my biggest inspiration is myself. That's because I know where I came from. I know my people, my culture and the way I was raised. Where I'm at in life by just pushing myself and not letting any obstacles get to me is breathtaking. I am a strong being and I see it in me. I push myself everyday. I look at everything I do and think of ways I could do better! I don't sit around and wait for the come up – I am the come up!
That's amazing and inspiring! I agree we are our biggest supporter. We really have to love ourselves before everything else. When did you decide to pursue a career as a model and why?
I've always known God chose me for something way bigger than just me. I started creating at 16, because I was going through the hell and back. When I started creating, I wasn't thinking of the business side of it. I just wanted to get away from so much and that's when I started creating the life I wanted to live! This has been an everyday thing and hasn't stopped with God.
 Wow! Not everyone has the luxury of knowing their purpose from a young age and is driven enough to see it through despite the obstacles. What advice would you give to young black women who are struggling to breakout into the industry?
My only advice would be to just be free. Understand the system, study moves but also be on the go! Connections are major achievements. I say this because, for example you might not know an artist but you know the manager and once the manager knows you, the artist knows you – that's business. As a freelancer always listen. It's better to gain knowledge rather than talk. If you talk too much you don't get to listen and by not listening you could miss out on a great point. Always watch out for yourself. If nobody wants to help, do it yourself. That's the motive.
True. Many young people right now are struggling with self-confidence. Sometimes we neglect how important the issue of mental health is. What advice can you give to young people who are struggling with their identity?
Mental health is a big issue, not so much of an issue but a struggle. In order to get out of that struggle you need to understand yourself. Talk to yourself, cry to yourself, let go and find yourself…be free! Self-therapy is very important. Find ways to understand a lot about life, because life could be really beautiful if you make it. Find ways to understand how you can bring yourself happiness. Once you understand and love yourself nobody could ever take that away from you. Even on bad days you'll just know it's a bad day, but tomorrow will be better.
Now I've got to say you completely rocked the shoot with Migella Accorsi. You were giving us Foxy Brown mixed with 1970s Dancing Queen. It was truly inspiring seeing a young black woman dominate the camera like you did. What has been your favourite shoot and why?
Miguella's a great friend of mine, super chill and always ready to f*ck sh*t up! We met when I first moved to LA and we've always been connected ever since. Creating and the camera is life! I truly feel like I'm home by just being in front of the camera. I can be anything and create anything I want! I just love the idea of bringing the craziness in me out on portraits or even just different sides. My favourite shoot so far would have to be my Vogue feature. It truly taught me that investing in yourself can really take you places and what you don't expect is exactly what you get. As long as you're working hard, chasing whatever it is you need to chase – trust and believe you'll get to it.
I totally agree with that. Working with someone you also consider a friend must be an amazing feeling. Where do you see yourself in the next five years?
In the next 5 years, I see myself exactly where I told myself I would be 5 years ago…on my throne! I remember coming to America from Haiti with a little backpack. Got off the plane, looked at the sky and told myself "once I leave this country, I'm not leaving it with just a little bag, I'm leaving with everything". By throne I mean I'll be all set with the running around, the struggles, I'll have more experiences. I know I'll be able to help so many others – the kids! I wanna change the world. I have a story to tell and that's exactly what I'm gonna do. While I'm at it I wanna help others live their stories.
Connect with Widny:
---
Tuesday 27th June 2017
Hanna Lashay: The Sunflower Goddess
An interview with Hanna Lashay…
This popular American artist/model is not just a beautiful face. Often being in the limelight seems to change people. This is someone who I admire for staying true to who she is. I first stumbled across Hannah Lashay back when I had Tumblr in secondary school. It's because of girls like Hanna that black girls now feel confident enough to wear their natural hair out…or go 'Au Naturale' as I like to call it. What I admired most about the model/artist and continue to admire about her, is her self-confidence, postivity and her way of thinking.
"I'm inspired by the trials of life. The up's and down's, nature, space, daylight, night time, art, colours and fashion…etc. It's actually very rare that I'm inspired by people as opposed to experiences."
Often times we believe it is mainly people that inspire us. That our inspirations have to be older than us, that they have to have lived a number of years and this experience is what shapes their wisdom. I don't believe that this is always the case. Let's just say you don't have to be old to be wise. In the case of Hannah Lashay, yes, I do believe a young person can influence another young person. I also believe that the world around us shapes who we are as a person more than another individual can and Hanna sums this quite well in the above quote.
Aside from being a beautiful, young and talented role model for black girls, Hanna is also a very talented singer. I found this out from watching her cover of Bag Ladyby Erykah Badu on YouTube.
You can also check out Hanna's new song Sunlight below.
She has a neo-soul sound with an indie vibe and her vocal ability amazes me as she continues to hit high ranges with ease.
  What do you want the youth to take away from your music? I asked.
She replied saying, "A sense of healing and enlightenment. I want to be able to trigger a person's emotions and feelings through my music. I'd like people to be able to feel less alone and escape within my music. I'd like to be a getaway".
Where do you see yourself in the next five years?
In the next five years I see myself grateful. Successful for sure but at peace. I see myself with a solid support base. A solid defined global brand on and off social media. My music will be healing humanity and bridging generations, cultures and ethnicities. My main goal is to make sure my mom is straight, that's really all that matters.
SZA is finally on the map right now and artists like Daniel Caesar are also making waves. Is there anyone you would like to collab with in the future?
I have soo many but I'll narrow it down to seven. Most definitely SZA, Russ, The Internet, Alina Baraz, Jhene Aiko, Daniel Caesar and Monte Booker.
I love how confident you are in yourself and your gifts and talents. However, we cannot ignore the fact that many young people do suffer from a lack of self-confidence. Mental health is just about getting the recognition it deserves. What advice would you give to any young readers that are battling with self-confidence? 
Practice patience and honesty. Self healing isn't an overnight process, so never feel like you need to rush to recover. Small efforts go a long way, seriously. Start by speaking small positive things to yourself. I feel like like social media and society plays a big part in how people view themselves nowadays. Try meditating and taking time to yourself away from everything for a little bit to be with your thoughts. Get to know the real you and not the you that has been defined from the external.
Have you ever been to London? Is a London meet and greet on the cards?  
I actually didn't find out until recently that I had a really dope support base in London, which was really shocking to me. But yeah! I'd love to get to come out there and get to meet all of the London Sunflowers, talk to them, hug them and just be able to enjoy that space. Yes it's in the cards. We will manifest that.
CONNECT WITH HANNA:  
 iamhannalashay            
 iamhannalashay